3D + 360 Fungi Photogrammetry
Documenting fungi as 3D images for research, education and artistic purposes. Ultimately an online 3D fungi collection available on the internet where citizen scientists and researchers can handle fungi digitally using either a mouse, or VR system - being able to see more details of the mushroom, rather than in it's dried state, or in a single photograph. Alternatively a 3D image of the mushroom may be printed for study as well.
​
For a good example of what 3D Mushrooms can look like check out Optimuscan on SketchFab https://sketchfab.com/optimuscan
This artist advised they shoot 160 to 400 pictures per model using a 24Mb camera, macro lense and software called Reality Capture. The artist recommended automating all the boring stuff, using Python as it can be repetitive.
​
Get started creating a 3D image of a fungi!
Photography: A complete circle of photographs need to be taken from the top looking down, from mid-height and from a low angle looking up.
You need to capture all angles so that the mushroom can be viewed from all angles. A minimum of around 12 - 16 images at each height, plus any additionals - around 50 images at a minimum - depending on complexity of the fungi being photographed of course.
You also need to make sure that each image, as you go around the fungus, is in perfect focus for the software or you'll get smeared results, if at all. Therefore, if depth of field is small, stacking of several images into one image, for each of the 50+ images may be required in order to ensure focus throughout the image. Images must overlap by at least one third, so that the photogrammetry software can map your fungi properly against the background.
​
Metallic and shiny objects often need preparation with flour or spraying with something to help the photogrammetry software to map the model.
​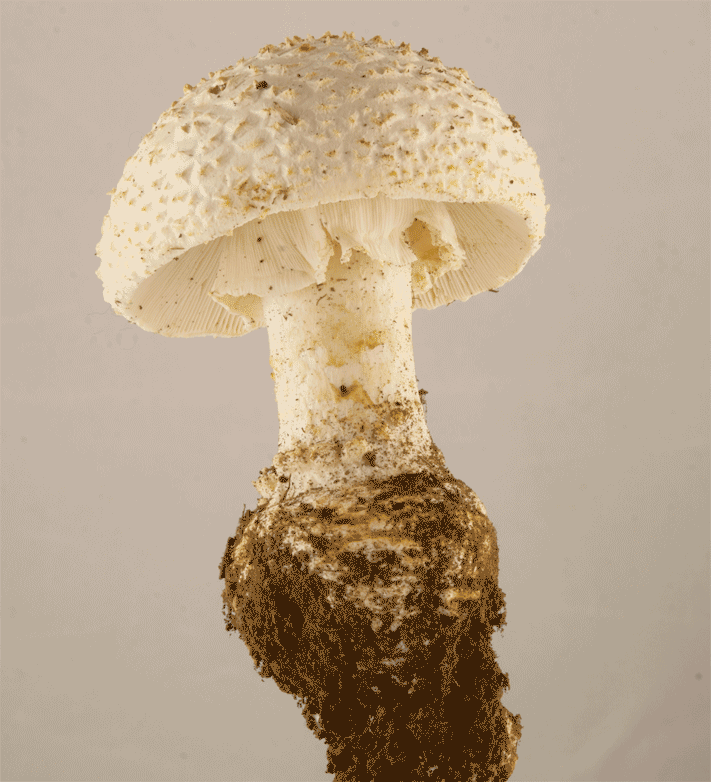 A 360 degree animated gif using images taken for 3D project
Series of images taken with SLR camera to be used for 3D
Lighting and Background: A photogrammetry lecturer, recommended highly detailed, non-repeating backgrounds as best. However, that said, there are people doing 3D fungi very successfully with a white background and placing the object on a turntable outside in overcast day to be photographed.
All images must be well lit, with minimum of shadows. Therefore, if shooting outside, an overcast day is ideal, or inside, requires even lighting - a basic 2 or 3 light studio can easily do the job.
​
Equipment: People use mobile cameras, or digital SLR cameras with either macro or other lenses - really depends on the subject. The more information in your image the better though, for the end result. Higher detailed subjects would do well with higher resolution captures.